After starting the season 9-3 and in prime position to not only win the NFC East, but also potentially securing a first round bye, the Philadelphia Eagles fell apart down the stretch winning just one of four December games which resulted in a 10-6 record that wasn't good enough to make the playoffs.
Looking back on the season, there were many ups and downs on both sides of the football. On the offensive side of the ball Jeremy Maclin stayed healthy and had a Pro Bowl caliber year, posting 85 catches for over 1,300 yards and 10 touchdowns. Rookie Jordan Matthews also had a very good season, catching 67 passes for 872 yards and eight touchdowns. Even though LeSean McCoy fell off a little bit this year as far as total yardage, McCoy still ran for over 1,300 yards and finished third in the NFL in rushing.
On the defensive side of the ball, Malcolm Jenkins had a very productive year bringing leadership and good play out of the Safety position. The entire front seven was very good, including standouts such as Connor Barwin who led the NFC in sacks with 14.5, and Fletcher Cox who had a Pro Bowl caliber year. Brandon Graham made great strides this year, along with Vinny Curry as they both showed great pass rushing ability.
However, like I said there were many "downs" as well. The secondary was horrible. No other word to use for them, outside of Malcolm Jenkins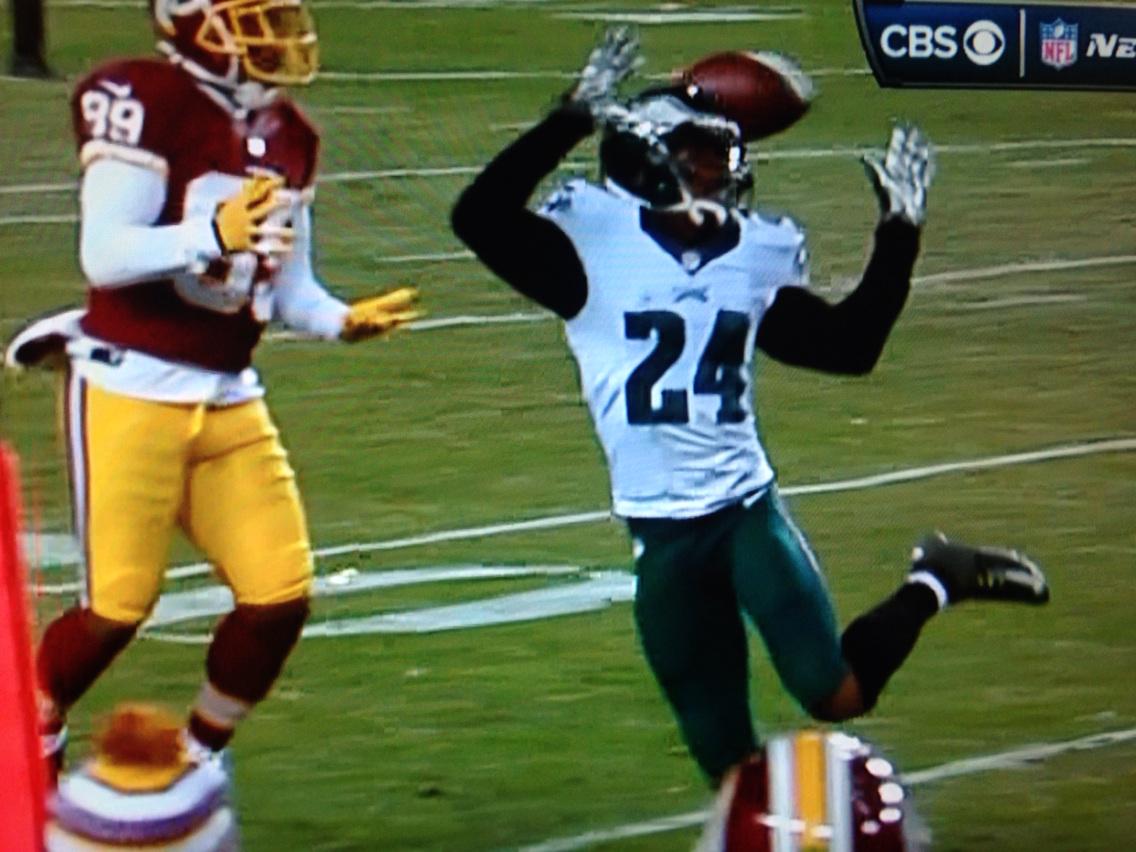 and Brandon Boykin. Bradley Fletcher and Cary Williams were absolutely torched all year long. Down the stretch in December when the Eagles were in prime position to seal the deal, Fletcher and Williams came up very small for the Eagles. Fletcher's best play that I can think of was the pass on third down that he stopped with his helmet in the fourth quarter against Washington in week 16.
The Eagles need secondary help and bad, both Williams and Fletcher were horrible, but if I had to keep one it would be Williams. Nate Allen struggled at the beginning of the year, but he actually didn't play as bad as I thought. If the Eagles can't get an instant upgrade over Allen I wouldn't mind having him back for one more year until they can spend money for a real Safety.
The Quarterback position isn't even really a debate for me. Bring back Nick Foles. He struggled this year, but Foles also played behind a very banged up offensive line which didn't give him a lot of time to throw. He didn't look comfortable in the pocket, and honestly can you blame him? Will Foles ever be a quarterback who throws for a 29-2 touchdown to interception ratio again? No, but can Foles be a 25-12 type of Quarterback? Yes, with out a doubt in my mind. So with that said, trading up for Marcus Mariota is a pipe dream, the Eagles will have to mortgage the future for him which isn't worth it. They have way to many holes to fill on both sides of the ball over the next couple of years to waste draft picks on an unproven Quarterback. How is Washington making out so far with their Robert Griffin trade? There is no point of mortgaging the future for one player, when there is a Quarterback in place who can be very productive in this system, when there are many other needs to fill.
The Eagles can make take some big steps in the right direction this year in free agency if they do it right. They don't need to have another "Dream Team" type of offseason, but there are definately players out there who can come in and make an impact right away that will help turn the Eagles into contenders next season.
Here are my top five potential free agents who I think the Eagles should take a look at:
1. Byron Maxwell: Maxwell is a very good physical Cornerback from the Seattle Seahawks who would make an instant upgrade in the secondary. Is Maxwell a player who can take away a half of the field like his teammate Richard Sherman? No, but Maxwell is one of the better corners in the league. Coming to the Eagles, Maxwell would bring toughness, swagger, and a winning attitude. He would instantly become the best Cornerback on the team and possibly the best player in the Secondary ahead of Malcolm Jenkins.
2. Kareem Jackson: A young, solid cornerback from the Houston Texans, Kareem Jackson would make a nice home here in Philadelphia. Like Maxwell, Jackson is not a shut down corner back, but he is an instant upgrade over what the team has now. In 13 games this season, Jackson had 57 tackles, nine pass deflections, and three interceptions. Jackson is an above average cornerback in the NFL, and while he doesn't fit the mold of a big physical cornerback (5'10'/188 lbs), at just 26 years old Jackson can have the opportunity to be the top cornerback on the team and continue to get better in Philadelphia.
3. Devin McCourty: A potential free agent to be, McCourty is one of the top defensive backs available in the NFL. Totaling 68 tackles, six pass deflections, two interceptions, and a forced fumble while playing all 16 games for the New England Patriots this season, the chance of signing McCourty has Eagles fans drooling at the possibility of him playing alongside Malcolm Jenkins next season.
4. Torrey Smith: Despite the emergence of both Jeremy Maclin and Jordan Matthews this season, the lack of DeSean Jackson really hurt the Eagles all year long. With no Jackson, the Eagles didn't have a true deep threat to stretch the field and force defenses to respect the deep pass. Both Eagles fans and Chip Kelly can add that element back to the offense with the signing of Torrey Smith. With 10 catches of 40+ yards and 33 catches of 20 yards or more over the past two seasons, Torrey Smith would be a perfect fit opposite of Jeremy Maclin in Chip Kelly's offense.
5. Brandon Flowers: Flowers is once again one of the better cornerbacks to potentially hit the free agent market. With 20 interceptions in his seven year career, Flowers would be an instant starter for the Eagles. In 14 games this past season with the San Diego Chargers, Flowers had 52 tackles, 10 pass deflections, and three interceptions. He would also be a good fit for Billy Davis, as Flowers is a physical corner who likes to use his hands at the line of scrimmage, and is aggressive against the run.
Follow Sam Shipley on Twitter: @samshipley5
Tags: Brandon Flowers, Byron Maxwell, Chip Kelly, Devin McCourty, Free Agency, jeremy maclin, Kareem Jackson, Nick Foles, Philadelphia Eagles, Sam Shipley, Torrey Smith